Currently in Tasmania, have made some of the initial reservations and arrangements for the November 2023 Tasmanian Treasure Hunting Adventure Tour. I'm using the Patreon platform to build that brand, so click here to check it out over there.
For the moment, as I make some updates, I'll leave the "old version" below as I'm under construction…
Welcome to Treasure Hunting Adventure Tours.
We will be bringing the most amazing vacations to YOU. Never before have such opportunities been available.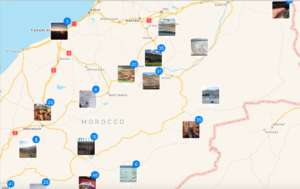 With over 30 years in field mineralogy and travel services, I've decided the next logical step is for me to start offering these adventures I go on to other people.
I have contacts on the ground on 5 continents and with their help, I will be putting together trips of a lifetime that will be reasonably priced for just about any budget.
Don't go on a typical vacation. Join me on a true adventure, and take a little treasure home with you when you're all done.
Our First trip was to Morocco in the Spring of 2017…check out the pictures from that trip.

Our next trip is being developed now for a return to Tasmania in November of 2023.
Availability will very limited to approximately 8-10 people.
Please send an email to pustuff (at) gmail if you are interested in attending and I will contact you with information as it becomes available.
More trips for 2023 and beyond are being prepared as we speak!!!
Stay tuned…
enjoy…